Soapbox Debut Screening
Date: Wednesday September 27th, 2006
Time: 7:00 pm
Where: Club SAW
Located: 67 Nicholas Street, Ottawa, Ontario
Tickets: Pay what you can

Soapbox will make its film debut this Wednesday, when it screens as part the first Independent Filmmaker's Co-operative of Ottawa (IFCO) 35mm challenge.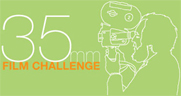 What was the 35mm challenge?:

Ten IFCO filmmakers had 400' of 35mm colour film, use of IFCO's 35mm Arri 2C camera and 48 hours to shoot a short film. Participants returned the film to IFCO after it was exposed, and then it was sent to Technicolor in Toronto to be processed and transferred to Mini DV. Once the film and transfer was complete each filmmaker was given a total of 10 hours on Final Cut Pro and 10 hours on Pro Tools to finish the project. The 10 films will be screened together.
Please visit the Film Info section for an overview and a synopsis of the film. For a peek into the production elements of the film, check out the Director's Book" section. Also please check out the Cast and Production Team for information on everyone involved in the making of the film.




NightAngel Productions gratefully acknowledge the efforts and contributions of Technicolor and the Independent Filmmaker's Co-operative of Ottawa which made Soapbox possible.